Bring your imagination to life with our RP channels!
Fantasy & Sci-fi RP
is a DnD-style game where you can explore your imagination and build complex worlds alongside the community using Nai-created characters. We encourage you to not only tell a story with words but to bring your imagination to life with the power of Nai.
Explore different locations and interact with other players & characters. From casual chat to community quests, our RP channels are built to inspire.
HOW TO UNLOCK ROLEPLAY FORUMS: Step 1.
Go to the top left section of the server and visit
Channels & Roles

Step 2.
Make sure you have the Roleplay role enabled

​
Step 3.
Head over to the Community Games category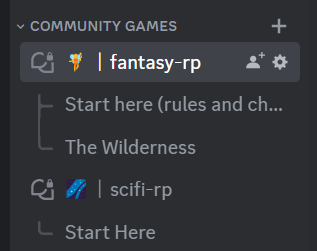 Step 4.
Choose the setting you'd like to start in and introduce your character in the START HERE section of the forum
HOW TO ROLEPLAY: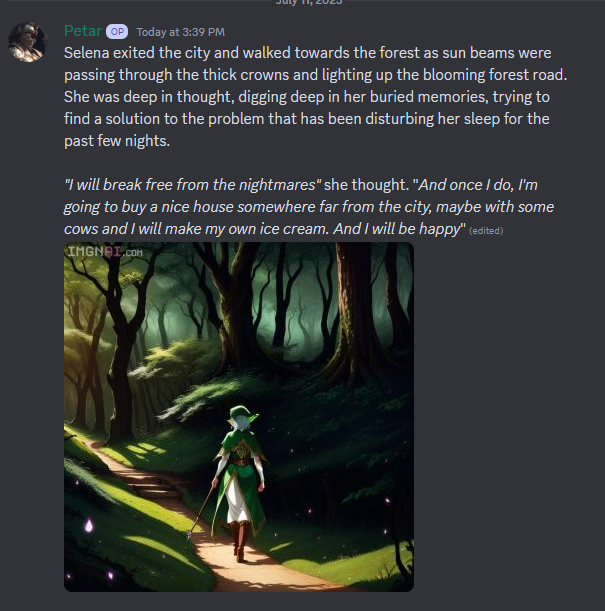 By roleplaying you tell a story of your character, what they are seeing, thinking and acting out. When you are happy with a character you've generated, try to position yourself in their mind.

Who are they, what is their story and what are their goals? Do the have any quirks? How do they like to feel? What motivates them?

Once you've come up with the characters background, go ahead and introduce them in the

START HERE

section of the realm your character will exist. Once you posted, the world is open for you to explore and build! If you're new to roleplay, we recommend that you read through how people have interacted before, find a style that you like and adopt it
RULES:

1. Posting NSFW gens in the channels is not allowed. 2. Roleplay isn't general chat. Spam, links or conversations about anything that isn't based in the fantasy world should be kept to the other channels. 3. Sometimes you will need to roll to see if you are able to succeed in your action! Use the /roll d10 command to throw the dice. Note that if someone tells you to use a different dice, you probably should.

For more information read the Roleplay FAQ.

4. Have fun and enjoy!